If you've ever owned a dog, you've probably seen dog pee pads.
The sticky tabs are supposed to stop your dog from chewing on them, but what if your puppy ends up plucking a pad off the floor instead? Then you blame the pee pad. Pee pads are by far the most basic of dog products, but there are several options for different circumstances.
Some dog pee pads are designed with scents to attract your dog to relieve itself. Some mimic grass, while others simulate ammonia or pheromones. Some dogs prefer these scents, while others don't. There are also some issues about the sustainability of these products. Regardless of what you decide to buy, it's important to choose a product that meets your needs.
A good pad will absorb pees completely. It should dry quickly. This makes it easier for you to clean up. Other types are designed to absorb urine and eliminate odors. A pet pee pad is an excellent option for puppies and elderly dogs who have trouble with potty training. It's also a useful tool if you're traveling and can't take your dog with you.
A few of the more popular dog pee pads are made of soft, absorbent materials that can withstand a dog's urine. For larger breeds, you'll want to choose a pad with extra-large absorbency. If your pup is a puppy, you may want to use a puppy-specific type.
For larger dogs, you can opt for large rectangular pads. These pads are more comfortable for your dog and will not irritate the dog's sensitive stomach. Large breeds can leave their pee pads in their carriers or crates for days at a time. Then again, you can choose a small pad for your dog.
If your dog is new to using dog pee pads, try introducing them to it gradually. When your dog starts using the pads, you should praise him for doing so and reinforce your success by giving him treats. Eventually, they'll understand that it's okay to make a mess. However, you should not yell at them or scare them. This could lead to confusion or even fear.
If you live in an area with a cold climate, use a dog pee pad and cover the pup's rump with a dog diaper. A dog diaper will catch the dog's leaks and help you prevent odors. This method has been used by many dog owners to teach their pups to use a dog pee pad.
Puppy pee pads have some drawbacks, however.
They can only hold so much pee before they get soggy and fall apart. Moreover, they can be used as a temporary solution until the dog is able to master the art of toilet training.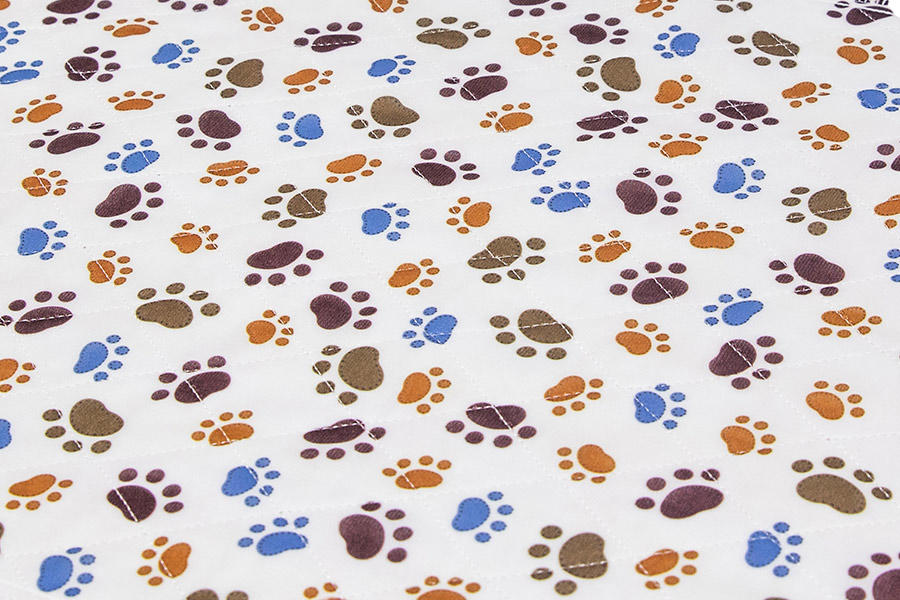 | | |
| --- | --- |
| Face cloth: | 140gsm Plaid weave fabric |
| Middle layer: | 6.8 oz |
| Waterproof layer: | 0.025mm TPU film |
| Base fabric: | 100% polyester knitting fabric |
| Anti-slip: | Anti-slip silica gel dot |
| Size: | 18*24 inch |
| Design name: | Red Plaid & Blue Plaid |
| Packing method: | 2 pcs in a poly bag with insert |
| Face cloth: | Purple and white grid |
| Middle layer: | 230gsm 95/5 |
| Base cloth: | 85gsm mercerized velvet |
| Packing: | 2 pieces of PE bag 1.5¥ |
| MOQ: | 100 packs |