An Elderly Bib is a practical, easy-to-use solution to the feeding needs of the elderly.
It's easy to attach to adaptive clothing and provides a convenient pocket to hold dropped food or drink until it's removed. Then, the excess can be disposed of hygienically.
These bibs can be worn by both men and women and are available in different colors and designs. The fabric of these bibs is water and stain-resistant and will not fade or shrink. They are also machine-washable, making them easy to clean. They provide the elderly with comfort and style, and are also a morale booster for the wearer.
An Elderly Bib is an effective solution for people suffering from Parkinson's disease. This disease affects the muscles of the affected person, causing them to have uncontrollable tremors. It's often difficult for these patients to swallow their food. However, family members can assist them with mealtime by cutting the food into small pieces and ensuring that they drink plenty of fluids. Besides, an Elderly Bib helps these patients avoid choking on food or drink.
An Elderly Bib is made of waterproof material and has a breathable back barrier.
The bib is available in a variety of colors and patterns and can be machine-washed. It can also be easily cleaned with a wet rag and mild soap. It is ideal for those who are bed-ridden, recovering from illness, or have dexterity issues.
Elderly Bibs are ideal for those who want to help their elderly loved ones eat independently. Despite their age, they can be messy eaters, so an Elderly Bib will help them avoid embarrassing situations. Moreover, an Elderly Bib can prevent food stains on their clothing, including their waist and delicate garments.
An Elderly Bib is easy to wear and remove. It also has a waterproof vinyl backing, which helps in ensuring that the under-clothes are kept clean.
Moreover, it can be used over again. Its durable construction and waterproof design will help the elderly feel dignified.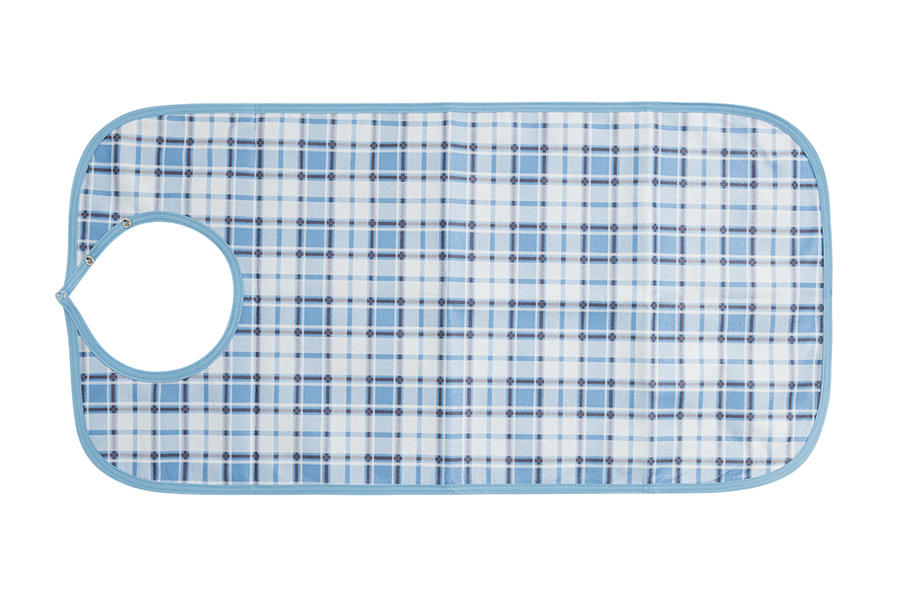 | | |
| --- | --- |
| Product Name: | Elder Man Eating Adult Bib |
| Facing: | 50% Cotton / 50% Polyester |
| Backing: | PVC |
| Size: | 18*36 Inch, 18*30 Inch... |