Whether you are in the middle of house training your dog, or are looking for a way to make your house a more manageable place, a pet training pad can be an invaluable tool. In addition to preventing furniture and floors from being damaged, these pads will help your dog learn to use the bathroom on their own. They are especially useful for dogs that have limited access to outdoor spaces. Whether you live in an apartment, are traveling, or have a sick pet, a training pad can help your dog learn to do his business in a more convenient location.
Puppies generally have to potty after eating or drinking, playing, or sleeping. If you are planning on training your puppy to use a training pad, keep in mind that the frequency of their potty visits will vary with their age and strength of bladder control.
For puppies, it is important to take them to the potty as soon as they show signs of needing to go. If you do not take them to the pad as soon as they need to, they may become confused and start to pee in the wrong place. It is a good idea to take your dog to the pad after every feeding. This can be a stressful situation, and it can lead to your puppy sneaking behind the couch.
Potty pads are also helpful for older dogs, or dogs that have been vaccinated and aren't as keen to go outside. Having the pad right there will make it much easier to take your dog to the potty without wasting time and effort. Similarly, they are an ideal option for owners who have to work long hours.
Training your puppy to use a pad can be a tough process. The key is to get your dog to associate the words "good potty" with successful potty training. While you can use scolding, positive reinforcement is generally more effective.
After you have introduced the training pad to your dog, make sure to provide them with food, water, and toys. You can also offer rewards, such as praise or a treat, when your puppy uses the pad. Always supervise your dog during this process to prevent accidents.
Using a training pad can be beneficial for dogs in cold climates. Puppies may be afraid of the outdoors and may need to go to the potty more often than usual, but a pad can be a great solution. Taking your dog to the pad can be a fun activity for you and your family. During a storm, you can save your pet from getting anxious by placing a pad on the floor.
Keeping your dog on a leash when going for a potty trip is a must. You can tie a long leash around your waist to limit movement, or you can put the leash over the top of a heavy piece of furniture. Long leashes are a great way to ensure that your dog stays in sight.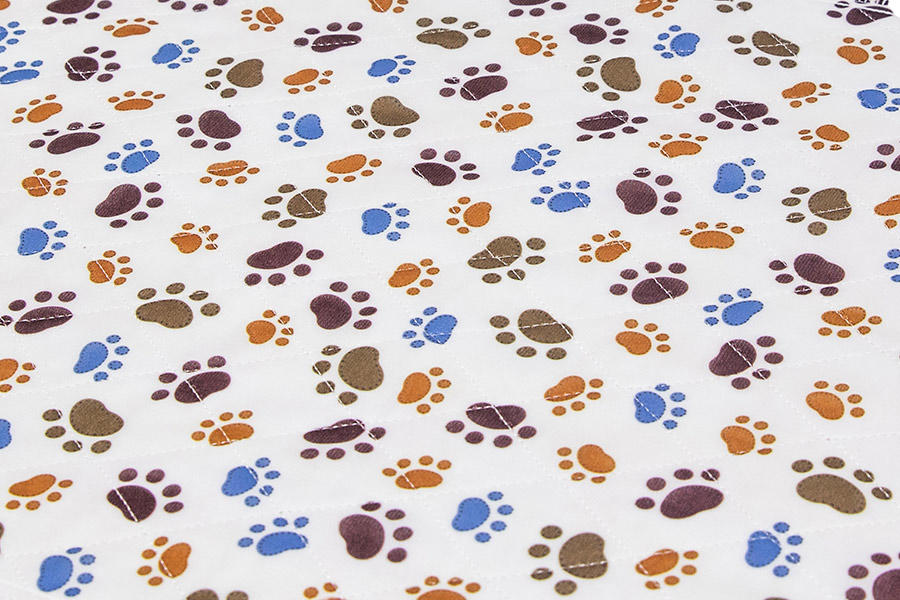 Warp Knitted Fabric PVC Waterproof Puppy Pee Pad
| | |
| --- | --- |
| Face cloth: | 140gsm Plaid weave fabric |
| Middle layer: | 6.8 oz |
| Waterproof layer: | 0.025mm TPU film |
| Base fabric: | 100% polyester knitting fabric |
| Anti-slip: | Anti-slip silica gel dot |
| Size: | 18*24 inch |
| Design name: | Red Plaid & Blue Plaid |
| Packing method: | 2 pcs in a poly bag with insert |
| Face cloth: | Purple and white grid |
| Middle layer: | 230gsm 95/5 |
| Base cloth: | 85gsm mercerized velvet |
| Packing: | 2 pieces of PE bag 1.5¥ |
| MOQ: | 100 packs |