Incontinence Pad Buying Tips
When it comes to incontinence products, there are a lot of choices out there. It can be hard to find the right one for your needs. To make the process a little easier, here are a few tips to help you choose the right product.
One of the most important things to consider is how comfortable the pad is. You don't want to feel like you're wearing anything uncomfortable. In addition to choosing a pad that fits well, it's also important to get a pad that is odor-free.
There are a variety of different incontinence pads out there, each with its own unique style.
Some have an adhesive backing so they can stick to the undergarment. Others are designed to fit into the undergarment like a sanitary pad. They come in different sizes and absorbency levels to fit a variety of incontinence needs.
The type of incontinence you have is an important factor in determining how much you will need to change the pads. Generally, for light to moderate incontinence, you'll need to change the pad a few times a day. For more severe incontinence, you may need to replace the pad more frequently.
You can choose between cloth and disposable incontinence pads.
Cloth pads are made of cotton and can be washed and dried after every use. On the other hand, disposable pads are made of synthetic materials. Both are effective at keeping the skin dry, but it's important to choose a product that isn't too thick. Trying to walk in a thick pad can be very difficult.
Several manufacturers now offer incontinence pads that are made with polyurethane. These types of products offer a waterproof backing, which means that the incontinence pads can keep your body dry and free from rashes and sores. However, this type of pad is also a bit more expensive.
Another consideration when buying incontinence pads is the length.
Most brands will list the length on the packaging. Choose a pad that's long enough to fit your waist and hip measurements. If your leaks are more frequent, you may need to try a longer, more protective guard.
A few other factors to take into account are the size, color, and absorption. Most incontinence pads are designed to last for a period of three to four hours. If you have heavy leaks, you may need to change the pad more frequently. Also, the pad should be breathable to avoid the risk of a rash.
Other incontinence products are designed to be used all day, while others are made specifically for overnight use.
The best way to choose a product is to figure out which type of incontinence you have and then shop for a pad that is appropriate for your needs.
The bottom line is that incontinence pads are a great option for anyone who has to deal with incontinence. They're easy to use, discreet, and can provide maximum protection while still staying comfortable.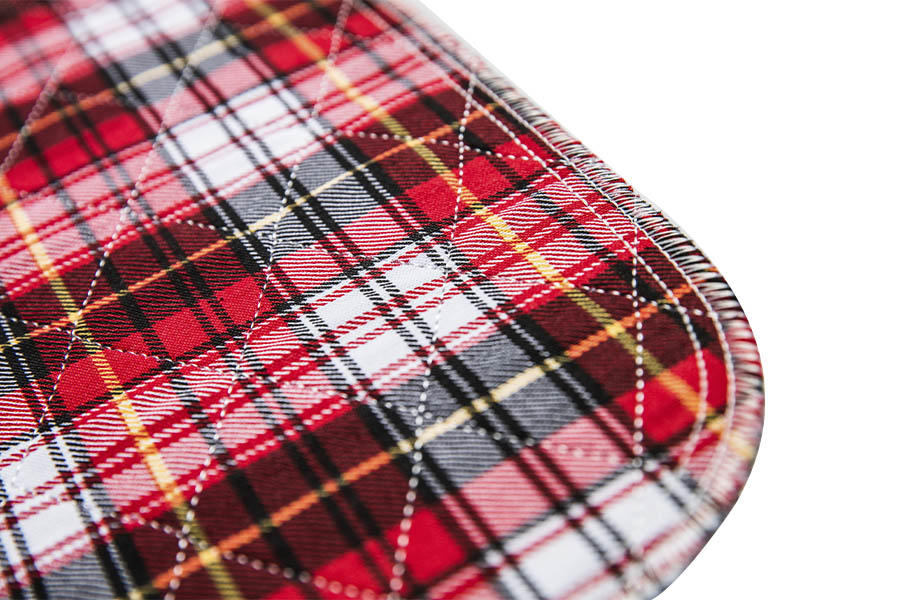 Polyester Cotton Cloth Printing Plaid weave fabric Incontinence Pad
| | |
| --- | --- |
| Face cloth: | 140gsm Plaid weave fabric |
| Middle layer: | 6.8 oz |
| Waterproof layer: | 0.025mm TPU film |
| Base fabric: | 100% polyester knitting fabric |
| Anti-slip: | Anti-slip silica gel dot |
| Size: | 18*24 inch |
| Design name: | Red Plaid & Blue Plaid |
| Packing method: | 2 pcs in a poly bag with insert |
| Face cloth: | Red and white grid |
| Base cloth: | 85gsm mercerized velvet |
| Anti-slip: | dispensing |
| Packing: | 2 pieces of PE bag 1.5¥ |
| MOQ: | 100 packs |